Dark Chocolate with Fleur de Sel 100g
This delicious chocolate is made with only 4 simple, organic ingredients, so you can enjoy a chocolate that is not only super delicious and melts in your mouth, but also good for the world and good for people.
€3,99
Ingredients
Cocoa Bean*, Coconut Sugar, Cocoa Butter* and Fleur de Sel (1%)* Cocoa: minimum 60%
* From organic farming
Nutritional information per 100g
ENERGETIC VALUE

491,4 kcal

FAT

29,6 g

of which saturates

17,5 g

CARBOHYDRATE

41,5 g

of which sugars

37,5 g

FIBERS

0,3 g

PROTEINS

7,8 g

SALT

1,0 g
Validity of 24 months
May contain traces of nuts. Store in a cool, dry place. Protect from sunlight.
About the 60% Chocolate with Fleur de Sel:
Thinking that you can't resist incredible combinations, we created our Chocolate Black Bio 60% to which we added the touch of fleur de sel. The end result is a delicious dark chocolate that melts in your mouth and perfectly balances the sweetness of the chocolate with the saltiness of the fleur de sel.
Origin: Ghana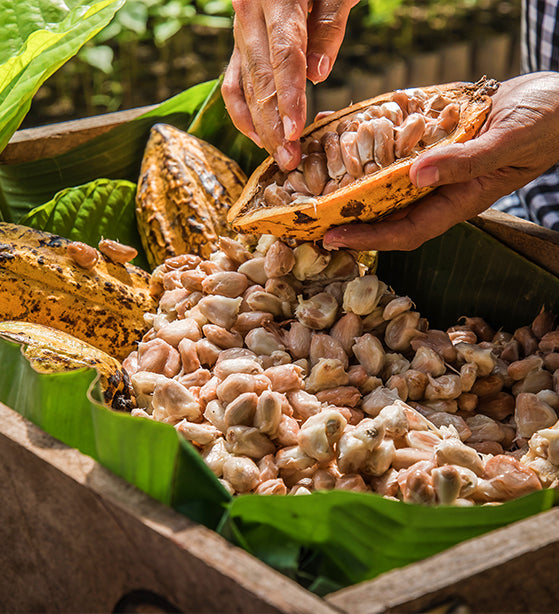 Organic Certification:
The organic logo can only be used on products that have been certified organic by an authorized official control agency. This certification attests to the fulfillment of strict conditions in terms of production, processing, transport and storage. Using the Organic certificate helps farmers to market their products across the EU and makes it easier for consumers to identify them.